I'm always interested to hear your views and questions about The Green Man. I can be contacted via ThomasSwiftProd@sky.com. If you are happy for your feedback to be posted on this page, just say so in your e-mail! :) Alternatively, leave a comment in the plug-in below!

Estelle Demontrond-Box, my French translator has written an article in her blogg about translating The Green Man into L'Homme en Vert and has given some great feedback:-
"This leaves us with a passionate and extraordinary piece of work...."
Andy at Grovel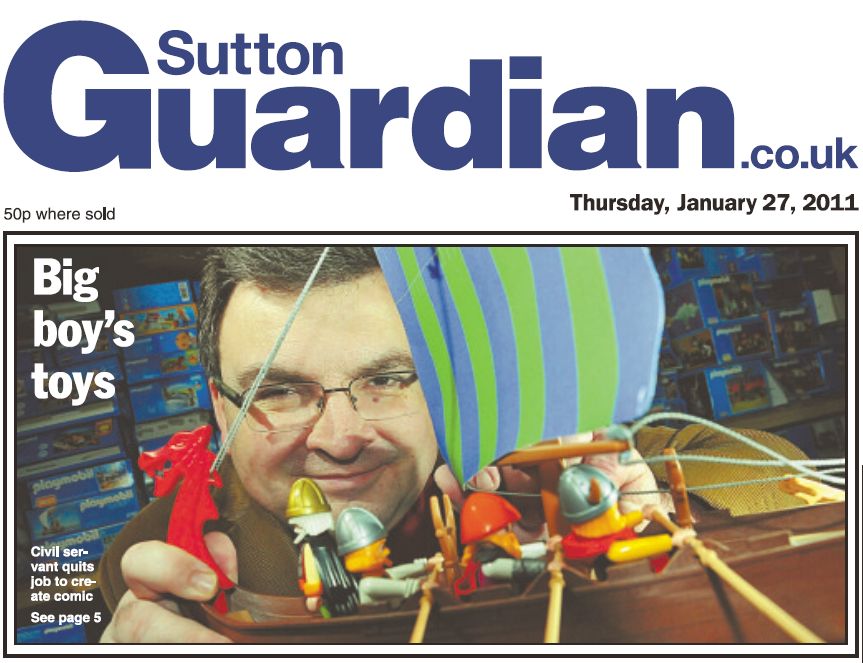 The local newspaper ran an article on the launch of the eBook version of "The Green Man".
This is a link to the internet version, and how it appeared in the paper can be seen in the pdf file below.
I'm not sure about the tag line on the front page!
The story was rehashed in their "Review of 2011" (29.12.11)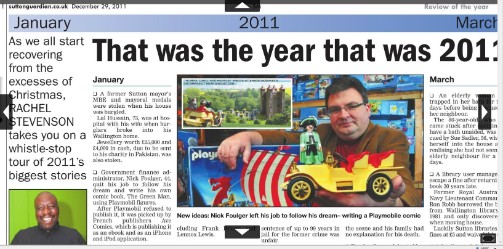 Graphic novel reviews
Andy, who specialises in reviews of graphic novels has reviewed "The Green Man!
"... This leaves us with a passionate and extraordinary piece of work that combines all these skills, interests and influences"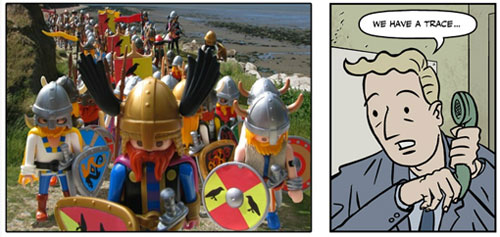 Garen Ewing, author of The Rainbow Orchid series of comic books kindly mentioned Nick's book in his blog:-

The printed version of the book is winning new friends: Johanne's partner has blogged about my book on ArtistsUKDotNet - the support is very much appreciated:-
"It isn't often that something really new comes along in the field of comics or graphic novels.... read more at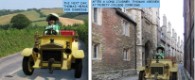 My German translator, Johanne Ostendorf, very kindly wrote an article about her experience translating the book on her website:-

A great review on my friend's blog...
"- it's really impressive and the amount of work
that has gone into it is incredible"
Garen Ewing
Informal feedback on the eBook version
I just wanted to thank you for your book, "The Green Man". As both a Playmobil and adventure comics fan, reading it has been one of the most enjoyable things I have ever done. I am Spanish, so I really appreciate the translation -although fortunately I can read it in English as well.




The combination of different themes and scenarios is great, so are the dialogues and the story as a whole. I suspect you must have received a lot of praise already, but I felt I had to write you this.




Many, many thanks,




Daniel - sent to thomasswiftproductions.co.uk

I read you book again and it is very good. Very nice pictures and story plot. You have done a mass amount of work to complete this project. Congratulations on a job well done.
Friendly,
Lori - Tricornejock.com
Wow, this is amazing story! Thank You for sharing, I enjoyed very much! Fantastic work
Ana - Laughinggiraffe.com

many thanks to do sharing this book on Internet. A lot of work, time and material, the result is awesome!!!! (the presentation well too). I wish you that Playmobil will recognize your comptetence and allow you to publish your wonderfull books.
Sure one of the best book I´ve never seem. Thank you
Congratulations!!!!
Friendly,
TJ - Tricornejock.com




Again, congrats for your work and many thanks in advance.



"El hombre de Verde" ("The Green Man" en su título original) es el nombre de un comic hecho con playmobiles por un britanico llamado Nick Foulger.
Muchos ya lo habréis visto, pero para los que no, os cuento de que va el tema...
Hace unos años el comic se editó y se puso a la venta en formato libro, pero desde hace un tiempo está también disponible de forma gratuita aquí, en la web de su creador. Se puede ver/leer en cuatro idiomas, entre ellos el castellano.
La historia narra la aventura en la que se ve inmerso el profesor universtario Thomas Swift cuando inicia la investigación de unos misteriosos sucesos.
La técnica utilizada para la realización del comic es la fotografía, mezclando elementos playmobil con imagenes reales perfectamente integradas. El resultado es exquisito, al nivel del primer libro de R.Unglick sobre la historia según Playmobil.
La verdad es que es una gozada. Las fotos son geniales, podréis ver customs, construcciones, paisajes... y sobre todo disfrutar con una historia divertida y original.
Podéis verla en dos formatos:
- Libro eléctrónico
- Videocapitulos en youtube.
Mi recomendación es que primero veais los videcapitulos en youtube (son 9 en total) porque ganan mucho con música y efectos. Después podéis disfrutar de las fotos en detalle y sin prisa en la versión libro electrónico.
Espero que os guste tanto como a mí!
Saludos!
P. Pelalal - Playclicks.com
What can I say? Hats off!!!
You´ve done an extraordinary work of art with this comic: pity that Playmobil doesn´t approve its publication...
Thank you very much for sharing this book format which I really like.

With my sincere admiration,
Davius - Tricornejock.com

Informal feedback on the YouTube / Vimeo videos
Chapter 1
Your pictures are fantastic.

Congratulations for your work,for one more time.

George - Tricornejock.com
Congratulations, Nick! This is coming out beautifully!!!
Anxiously awaiting for the following chapters!!

Lordbatman2000 - Youtube
Espectacular! Congratulations Nick!
Rolfbonilla - Youtube
Wow
Ich bin begeistert von der Geschichte und hoffe das sie bald fortgesetzt wird. Vielleicht solltest du damit zum Verlag gehen oder zum Fehrnsehen.
Max - Klickywelt.de

thank for the link. Your work is amazing!!!
TJ - Tricornejock.com
Superbe, Nic, vivement le chapitre 2 ! Et remercie la traductrice !
erport - univers-playmo.fr
Vivement la suite.
Redmao - univers-playmo.fr
Je l'ai acheté, il y a quelques semaines ! Très belle réalisation !Eldorin - univers-playmo.fr
Chapter 2
My English ist not so good, but your Videos are beautiful.
They are phantanstic and fascinating.
It it so bad, that Playmobil has not allowed, to print this
storries into a book. Good luck for the part 3, I am so interested.
Playmofee - Klickywelt.de

Ce nouveau chapitre est tout aussi palpitant.
Redmao - univers-playmo.fr
Fantastic work you've created. I'm enjoying your story as well as the very pictures. One can easily see you invested a lot of time ( and surely money ) on this projekt - and now I just wanted to say thank you for offering us the hole story free for everyone!
It's really worth seeing it......
El Lobo - Klickywelt.de
Nick, the atmosphere inside the inn is really, really well done. I have enjoyed very much the 2nd chapter and waiting for more..! On the other side, I would like to tell I like how the script of the story is developed until now, and the way you take every picture. Very good job!

O'Clicka Playmolover - Playmobil Facebook page
Chapter 3
Just finished the first three chapters! Great work Nick! Very nice and exciting story, wonderful pictures! Thank you very much! I'm looking forward to the next chapters!
Rolando - Tricornejock.com
I love the new chapter! I like how Anika looks there...and all the vikings. The story becomes more mysterious and exciting with every new episode... :)

O'Clicka Playmolover - The Green Man Facebook
Congratulations Nic on finishing new chapters to your beautiful work


Rasputin - Playmofriends.com
It´s so great! I really enjoy every single detail. What a lot of work. Thank you so much for this gem!
Knusperkeks - Klickywelt.de
awesome like always,great writing!
playmobilcollection1 - Youtube
trop bien!!!!!!!!!!!!!!
celluloide01 - univers-playmo.fr
All you pictures are more than fantastic!!!!

Bert Hansen - Playmobil Deutschland Facebook Page
Chapter 4
c'est juste tout simplement superbe!!! bravo à toi!!
Colonel Marlowe - univers-playmo.fr
je découvre, j en reste baba! gros gros travail! j ai regardé les 4 épisodes a la suite, pas une seconde d ennui, bravo!

krakou - univers-playmo.fr
Very good job...!!! I had a great time reading this.
Congratulation for the brilliant idea..!!!!
Andrea Cm - The Green Man Facebook Page
Chapter 5
Toole Geschichte super Sound Effekte, und mit Spannung wird das nächste Kapitel erwartet, wie bei einem richtigen Blockbuster.
Playmo of Fame - Playmobil Facebook Page
Thank you so much for sharing all this with us. Your pictures are great and I am really enjoying the story.

Lori - Tricornejock.com
einfach ein Wahnsinn, ein Kapitel besser und schöner als das Andere

Thomas Marek - Playmobil Deutschland Facebook Page
Very good job...!!! I had a great time reading this.
Congratulation for the brilliant idea..!!!!
Andrea Cm - The Green Man Facebook Page
Chapter 6
Hello ! I just watched all the chapters of ur story ! My congrats M. Green it's really awesome !
PLay&motions - The Green Man Facebook Page



What a wonderful story!

Will there be a Chapter 7?

Tim - Klickywelt.de
many thanks for the new chapters! It's really a very exciting and well made story! I love it and I'm looking forward to the next chapters!

As a comic book and playmobil-lover, this is of course my cup of tea
Rolando - Tricornejock.com
You did a wonderful job, Nick! Thank you for so much creativity and all the work!

Chevalier - Tricornejock.com
Thanks for sharing your beautiful work with us Nick.
George - Tricornejock.com
je viens de lire l'entierté, tout simplement excellent;

la mise en scène est superbe, le scénario est captivant et le rendu en video ne perd pas l'intéret de la BD; j'attend la suite

Gerwald - univers-playmo.fr
Chapter 7

Trop. Trop génial !!!! Bravos !!!
neo2116 - univers-playmo.fr

beau boulot
playmo19 - univers-playmo.fr
I tend to pop onto The Green Man regularly to check for updates, and have enjoyed every minute of the story so far - really well done and a pleasure to read. Thank you!

Sennal - Playmobil Collector's Club (PCC)


Just read through the Green Man again, superb, looking forward to the next chapter
Town Klicky - Playmobil Collector's Club (PCC)

I watched chapter 7 late last night and I really enjoyed it,(SPOILER ALERT) I bet the country scenes took ages to develop! ;) I always knew the dhl vans were dodgy ;) but I was so shocked when I saw Thomas's bad driving at the end of the episode, I hope he's alright the silly musketeer, I'm sure his air bag has saved him and with all the police around I think he will make a full recovery but I think the boat will escape with the packages :( let's just hope the police helicopter can track the boat with the other police boats. I really enjoyed this episode, however I am now waiting for the 8th episode, when will this be released to view? :D
Connor - Playmobil Collector's Club (PCC)
Chapter 8

The kids loved it, 47 minutes on freeze frame!
We watch it through first, then again pausing so they can take in all the detail




Town Klicky - Playmobil Collector's Club (PCC)



Chapter 9 - final chapter
Many thanks for the chapter 9. I don't want to think about, for how many hours you spent to do this amazing project. To setup your collection, to take the pictures, to work with them, to write the dialogues and finally to make the videos and I don't know what else. Incredible job, congrats. I really enjoyed this my friend. Many thanks for sharing. Looking forward for your next work.
Friendly George - Tricornejock.com
thank you for the link to the final chapter 9, it is quite amazing and a glory end of a very very beautiful and sticky story.
I think that lead me to some ideas for fantasy-roleplay ...

By the way, I hope you will do something like that again.
Somehow I miss the green man and his lovely adventure.
But I think he will return with another gorgeous story done by you.

As resume: thank you very very very much for all of that.
If I have to decide, you will get 10 Bon points, surely !!!

So long, you great storyteller and PLAYMOBIL (R) fan.

Bye.

gez. DEVNUSOM - Tricornejock.com

Yo los sigo desde que empezó a publicarlos en FB, y estoy con Pelalal en que en formato video son muy interesantes, aunque son viñetas fijas los efectos de montaje y sobre todo, la música (compuesta expresamente para la historia) le da un toque más interesante todavía.
Es muy recomendable, un trabajo muy bonito y una historia que engancha. Nick estará feliz si le dejáis alguna opinión o comentario, suele responderlos!
O'Clicka - Playclicks.com
NIck Foulger / Thomas Swift Productions YouTube Channel Comments
What a marvellous channel you have. The Playmobil videos you make are amazing.
HerrOttoKranz - Youtube
FEEDBACK ON THE PRINTED EDITION
From Inge Pudell-Spatscheck
"Just reading in bed and my husband perused my iPad and stumbled upon your comic book. He's VERY IMPRESSED at how well done it is. He doesn't share my love for Playmobil, so this is a HUGE compliment! thought you'd love to hear that."
From Louis (14), Wimbledon, UK
"Thank you very much for the amazing comic book, has a brilliant story with funny and exciting moments.
I strongly recomend reading it.
BEST comic book of the century!!! :)"
From Valérie, Nantes, France
"Merci pour l'envoi rapide et parfait du livre l'homme en vert. Ce livre est très beau et fait le bonheur de mon petit garçon...."
From Centurio - Klickywelt.de
"Thanks it´s a great album. I love the style and the story. The book quality is also perfect.
I am looking forward to the next comic!
Keep it up!"
From Ryan - Playmofriends
"...its so amazingly constructed that i think that every respecting pm collector should own one od these books. hehehehe


The story is amazing bit of history bit of modern life adventure and it makes you stick to it to see whats gonna happen next. its really nice i loved it. ...re photos im amazed being a photo editor my self i really appreciated his work and its simply magnificent.


He uses real life views and set playmobil building and klickies in them and they fit perfectly... anyways its a book to own and read and im sure all of you will appreciate. Would love to see more similar books and look forward for the next one from nic which will be called "the doomsday tablet"
From first eBay sales
Fantastic book - a must have for any Playmobil fan! Great ebayer, A++++++ 28-sep.-11 10:51

V fast delivery, excellent book, would recommend highly to both children & adult 11-oct.-11 17:45